Winter Roses, 8x10
This is a painting I did from imagination. I thought it might be fun for people to see what that process involves. When I'm looking at other artists' work, I often think the "in progress" pictures are more informative than the finished piece. A note of caution-I would never teach anyone to work this way; it is just something I do for fun. You have to have decent drawing skills to pull it off. The start is really nothing more than a Rorschach test; I make some random marks and "see what I see." I usually turn the canvas 90 degrees, step back, and see if something comes to me. If it doesn't, I keep turning the canvas and making a few marks until something emerges. In the first picture, I can see a vase of flowers with a landscape in the background, so I'll commit to that.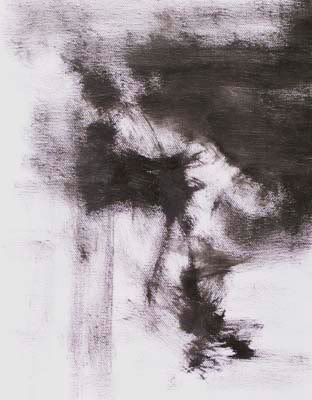 At this point I'm adding a paint similar to yellow ochre to the black paint already on the canvas, resulting in a neutral dark green color. I'm trying to keep the background fairly loose and undefined, so it won't compete with the flowers.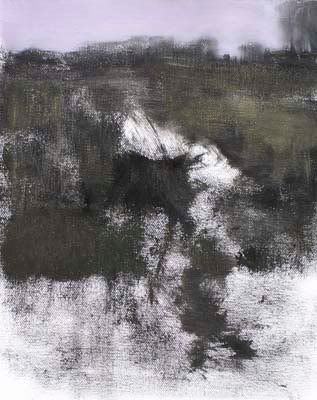 I've laid in a grey color in the foreground to imply a window sill or ledge,and defined the vase and flower masses. I'm still winging it and guessing at this point.
I decided I needed some snow in the field outside. I thought it would help to bring out the flowers more,since this is a fairly dark painting. Also, this is the point where I need a reference! I had an old painting of some geraniums on an overcast day so I looked at that so see what the vase might look like. Also, I had to look at some of my rose photos to see how the petals are shaped.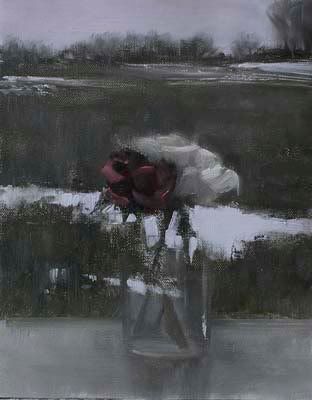 Here's the finished painting; its just a matter of refining things at the end.